Fall is in the air, one of my personal favorite seasons in Colorado. It is a perfect time to have a Celebration of Life for our beloved Doc Gurney. If you would like to join us, please do on Saturday Oct 14th Rockland Community Church 17 S Mount Vernon Country Club Rd Golden, Co 80401 from 2-4 pm. Bring your fabulous stories about Doc!
In the meantime, lot's going on at Aspen Park Vet Hospital and the ResqRanch. At the hospital we hired a Chief Solutionist, Corey, to take over some administrative duties. We are very excited to have Corey as an addition on the team! He is a military veteran, and the owner of the Purple Bucket local composting company. He brings a wealth of knowledge about streamlining processes and we are blessed and lucky to have him on the team. Our goal is to have him help us learn how to serve you even more quickly and effectively, Welcome Corey!
Next I wanted to share with you another one of our Miracle Patients, a little Vizsla dog who was diagnosed with Mast cell cancer over 2 years ago. Since then, he has been regularly taking his herbs, supplements, eating a nutrition packed plant based diet, and playing ball like crazy. I was so relieved to see the handsome guy for a routine checkup, with no problems or concerns to report. He is definitely one of the reasons why we are so blessed and honored to do the work we get to do!
It's been a very busy time at the ResqRanch as well. I was the vet for the Spring Gulch horse event down in Parker which was very exciting and inspiring. It was amazing to see so many wonderful horses and riders, going through their paces, first dressage, then stadium jumping, then tackling a massive cross country course. Even the youngest competitors had amazing riding abilities, and on the other end of the spectrum were some Olympic level pro's! It really made me want to aspire to be able to compete in an event like that one day. However, it was difficult for me to reconcile, as a positive reinforcement trainer, the use of the bits, whips, and other harsh equipment equally used across all the events, by all levels of competitors and horses. If that is what it takes to get to a level like that, then that is not something I personally want to subject my horses to. I wondered if it could be done without those tools, and in a more positive reinforcement way. It certainly gives one food for thought and a deep physiological dilemma when it comes to our relationship with horses, and what is considered acceptable even at high levels of competition. My vision is to replicate an event such as this, with an emphasis on using primarily positive reinforcement methods. Can it be done? Definitely a lofty goal for the busy volunteer trainers of the ResqRanch! Check out YouTube channel The1DrQ to see the latest groundwork training videos. And if you want to learn a guaranteed way to build a magical relationship with horses (and thus be able to train them to do anything), then sign up for email updates so you can join my completely overhauled Masterclass launching soon!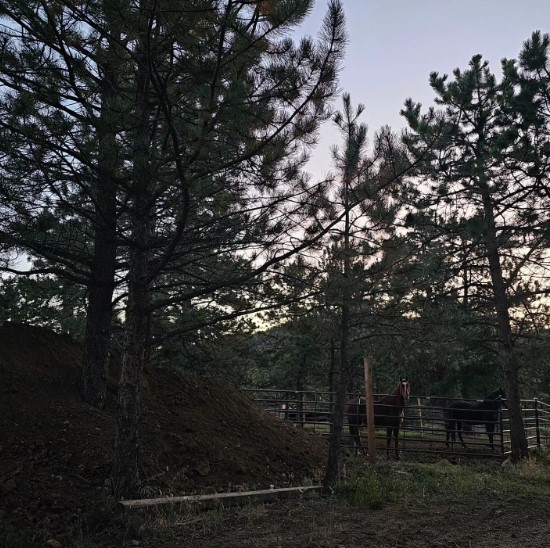 Finally, the Dirt Project. Back in June, at a Chamber of Commerce event, I heard the casually tossed out question "does anyone want some dirt?". My ears immediately perked up, as I thought this might be the perfect way to get our horse arena built for the ResqRanch. Especially important since we have already agreed to be a place where Girl Scouts can earn badges, and we are currently speaking with the county about setting up, especially with Corey's help, veteran's programs. This led to many new connections and friendships with other businesses to help us make this project a reality. Although the dirt, which is a considerable amount, is being donated to us, we had to be able to accommodate the big trucks coming in. So the first step was to have the entire front entrance of the place dismantled. The second step was to clear about an acre of heavy woods, and now we are in the process of chipping the branches, moving the logs, and then staking out the horse arena so they know exactly where to put the dirt. It's all very exciting, and very intimidating for sure! Also, like most things in life, the free dirt is costing us several thousand dollars. We are spending our winter day money to cover those costs. We really need your help. Please find it in your heart and open your wallet so that we can complete this project, and still buy hay for the horses this winter. Thank you, in advance, for your support! And for reading! God bless you and your animals, and find you happy, safe, and healthy. ----DrQ and the Crew of Aspen Park Vet and the ResqRanch.
Learn more about Aspen Park Vet Hospital, the Resqranch, and all things related to happy and healthy pets at our YouTube channel.