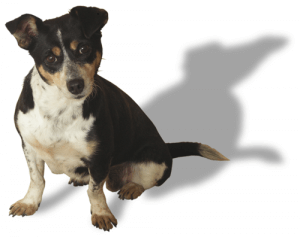 You look to your veterinarian for such things as to ensure that you pet is healthy, up to date on vaccines, and likely to live a long life. People don't usually think of their vet first with behavior or training concerns, or to ensure that their pets behavior is likely to contribute to along, productive life. But the truth is many behavior issues need to be addressed from a medical perspective, and conversely, behavior greatly contributes to the health and longevity of your companion animal. From everything as obvious as not bolting into traffic, to more subtle such as ulcers or urinary tract infections caused by housing stress, health and behavior are intricately intertwined. For those animal caretakers who are committed to maximizing the health, as well as the emotional bond, between themselves and the animals they love, then a truly 'wholistic' approach is the one that makes the most sense, and the one for which DrQ is here to help.
Dr. Questen (aka DrQ), is a compassionate veterinarian with more than 20 years of experience helping clients with their companion dogs, cats, horses, and fish. Her approach is holistic in more ways than one, not only is she a certified animal acupuncturist and experienced in natural remedies, but she also has a passion for the SCIENCE of animal behavior, and longs to dispel some of the the many behavior and training myths and misconceptions out there which drive a wedge between the joyful relationship so many clients could have with their animals.
Although the relationship we have with animals is slightly different depending upon the species, the basic premise is the same, a sense of cooperation, and benevolent leadership, is much preferable and scientifically more successful than one based on dominance and control. It's the same principles that dolphin trainers use, and all professionals who have studied the science of animal behavior.
So no matter if you have an English jumper who is spooky over rails, or a poodle lap dog that barks at the mail man, both of those behaviors could affect the animals health, and both of these need to be addressed from a medical perspective first. Once the physical has been determined to not be contributing to the problem, then the science of behavior takes over, and you have one person to turn to who can you guide you through it all, with knowledge and caring.
DrQ's three simple principles for effective animal training:
Safety first
Ask politely; reward appropriately
If after 3 asks you don't get what you hoped for, stop, take a deep breath, smile, and ask for something easy. Then start over at step one.
If these steps don't make sense, or you have tried them and they don't seem to work, then it's time for the help of a qualified positive reinforcement oriented trainer, or better yet a consult with DrQ.
Follow these 3 simple steps and teach almost any animal to do almost anything, which will ultimately lead to a deeper bond, less stress and anxiety, and a longer life for both you and the animals in your care.
I'm DrQ, here to help you, and your animals live healthier and happier, longer!