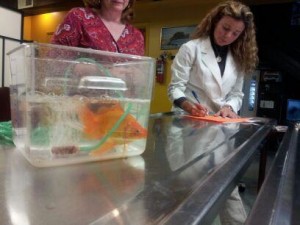 Have you been struggling with your beloved pet goldfish, betta, koi, or other fish, with some health concerns or questions, but weren't really sure what exactly to do? Have you considered consulting with Dr. Questen the aquatic veterinarian regarding your pet fish, but weren't sure about how it would work, or how expensive it would be?
Well then you are in luck! We are so excited to share with you that the Denver Post is sending a reporter and a photographer to interview Dr. Questen, also known in the fish world as "Dr. Koi", this Monday February 10th at the Denver Holistic Pet Center! What does this mean for you the pet fish lover? It means bring your fish down to the Center during the interview, allow photographs, and get a health consultation with Dr. Questen, FOR FREE!
AND if you are NOT a fish aficionado, then please share with us your email via www.eastwestvet.com so that we may send you details about our EXCITING upcoming webinar series:
"HOLISTIC VET REVEALS INSIDER SECRETS TO NATURALLY HEALTHY ANIMALS!"
In this webinar we will discuss the 10 steps to TOTAL Natural Health. This is the only guide you will ever need to help your best friend live healthier, and happier, longer!
So please forward this to any fish lovers you may know, and sign up so we may share with you upcoming details about the webinar. Interested fish lovers please email us through www.drkoi.com to reserve a time. Remember it happens ONLY this Monday afternoon February 10th, at the Denver Holistic Pet Center, located at 4640 Pecos St, Denver, Colorado 80211.
Show off the bond you have with your beloved pet fish, while learning about improving the health and longevity of this animal which means so much to you. Even thought not everyone else might really understand, we do!
Hope to see you! Stay tuned for a link to the article when it is published in the Denver Post!