So your fish keeping friend is moving and has offered to give you all their fish, lucky you! But how to properly get those beautiful new finds safely from their pond or tank to yours. Even if this is not exactly the case, there may come a time when you need to move fish, such as because they are newly purchased, going to a show, or are going for a visit to the vets office. Therefore it is good to do a review of proper fish handling and transport.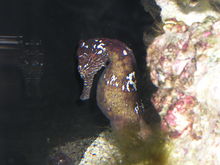 First of all, fish that have been in a pond or tank for many years are often not kept in the most optimal conditions. They have often long outgrown the appropriate size for their environment. Overcrowding equates to poor water quality and a depressed immune system. Although they may appear perfectly healthy now due to the fish's incredible ability to acclimate to most any gradual changes, the stress of moving is often all that it takes to push the fish over the edge and allow them to suffer from all manner of illnesses and parasites. Even fish that are transferred from presumptively "disease free" sources can potentially be carriers of disease. Some conditions can be difficult to detect in carrier fish, and some pathogens may go undetected if they have not produced clinical signs in any of the fish. Do not believe it when the store says the fish have already been quarantined!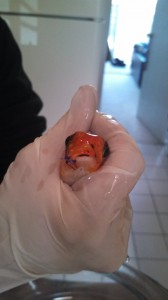 To minimize spreading of these potential diseases to your pond; first, acquire the services of a knowledgeable fish veterinarian. If possible have the fish's health and environment evaluated before the move. This can be scheduled while the isolation or quarantine tank(s) are establishing since of course, you do NOT want to move the new fish directly into your pond on the first day. During those times when it is not possible to have the fish evaluated BEFORE the move, then plan to have them examined within the first week or two in your quarantine facility to minimize the potential spread of pathogens into your pond.
Ideally, fish should be fasted for about three days before being moved. Some report fasting for up to a week, but this tends to add to the stress of the fish and is not recommended. Fasting the fish will help minimize waste during transport which will maintain water quality, which becomes more significant with the farther distance traveled. Caution must be used to minimize stressing the fish during capture and restraint. Latex or similar gloves should be worn when handling the fish to protect their delicate skin and to protect you from potential pathogens. No jewelry should be worn. Fish should be gently guided head first into catch bowls in the water; fish should NOT be lifted out of the water with nets if at all possible. Any nets used should be of the type which will minimize damage to the sensitive skin of the fish. Nets are primarily used just to guide the movement of the fish. The fish should be lifted out of the water in either a catch bowl or a fish sock (fine mesh bag), which is then picked up on both ends and from there the fish is moved into what it will travel in.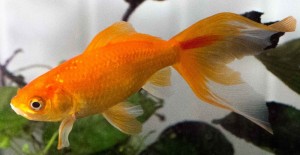 The safest way to transport fish is in a plastic bag with just enough water to cover the fish, and the rest of the bag filled up with pure oxygen. Fish of any considerable size should be placed in two bags as their dorsal fins, as well as hooks near the anal fins, have been known to cut plastic bags. The plastic bag(s) should then be placed in cardboard boxes and padded with newspaper to minimize their rolling around. For trips of less than 30 minutes fish can be transported in buckets, plastic-lined regular or Styrofoam coolers with about 1 liter of water for every centimeter of fish if supplemental oxygen is not provided. Any container fish are transported in must be covered to protect the fish from injury by jumping out. Noniodized salt can be added to the water, but must be carefully measured to equal one teaspoonful per gallon. Do NOT add salt if going for a visit to the vet, as this might make it more problematic to locate parasites on the fish when they get examined.
Once at the new locale, plastic bags should be floated in the quarantine tank for around 30 minutes to acclimate to the new water temperature before the fish are released. If fish are being moved into a freshwater quarantine tank, it should have a separate fully cycled filter sponge or another type of nitrification system, and consider adding non-iodized or sea salt added, to a level of 0.3%. Salt reduces the osmoregulatory effort of the fish, which is how much nutrition it needs to breathe and digest food. This level of salinity should be maintained throughout the quarantine period of at least two but preferably 4-6 weeks. While in quarantine the water should be checked daily to ensure ammonia (should be 0), nitrate, nitrate, and Ph levels. Use partial water changes to maintain good water quality, and be prepared for a Ph crash.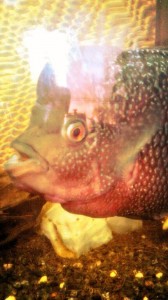 Other treatments that can be done during the quarantine period are to feed the fish medicated food. It is important to ensure the new fish are eating well, tempt them to eat with food and treats specific for their species. Random treatment with antiparasitic agents is NOT recommended unless the tests performed by your veterinarian confirm and warrant such treatment. Monitor all the fish every day to ensure they are eating and swimming well without scale/skin lesions or frayed fins. Use separate nets and equipment for the quarantined fish to prevent cross contamination, and at the end of the quarantine period thoroughly disinfect all such equipment with diluted chlorhexidine or other net safe solution.
At the end of the quarantine period, release the new fish in the pond or tank to join the current residents, and enjoy the freedom of knowing you have done everything possible to ensure the best possible outcome for your new additions!
If the fish are not going into quarantine, but just being transported to visit the vets office, be sure to bring with you another container with the water the fish is acclimated to, so that there is fresh water for the fish to travel back home in. For smaller fish, I usually recommend transporting the fish in a plastic bag, and then having at least the same amount of water in another plastic bag just in case of bag breaks, a bucket spills, or whatever the case may be. You can never be too careful about when transporting fish. I also prefer them to come to my office in a cooler, as this minimizes temperature fluctuates no matter what the weather outside, which helps keep stress to a minimum.
In summary, with a little preparation, it is easy to safely transport your pet fish for whatever purposes you might need. I am here for you to do housecalls in and around Denver, Colorado for your fresh, salt, and pond water fish. You can even book me on line here http://www.drkoi.com. Best wishes for you and your fishes!