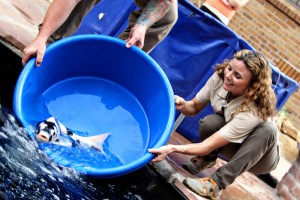 DrQ is proud to share that on May 16, 2012, she was the first
veterinarian in the United States to vaccinate a koi with the first and only USDA approved vaccine for pet fish!
The vaccine is designed to help protect koi fish from the deadly Koi Herpes Virus, or KHV, a devastating disease can can kill up to 80% of the inhabitants of a pond, often within about 7 days. The new vaccine, called Cavoy and manufactured through Novartis Animal Health, is the first vaccine of it's kind in of aquatic medicine in the United States.
Koi Herpes Virus is a devastating disease that leads to substantial losses. The disease affects koi fish in backyard ponds, as well as commercial fish producers, but can also kill thousands of fish in lakes, such as the staggering number of dead fish in a Michigan lake last week. Finding the disease in a natural habitat indicates the disease is endemic to the US, and a potential threat to every keeper of koi fish.
The vaccine, available only through a veterinarian, has been used successfully in Israel for the past several years, and helped salvage an industry on the brink of financial disaster by halting spread of the disease.
The vaccine is administered via an immersion bath, so no needles are required. For those with an investment in an ornamental water garden and koi fish, this new vaccine is sure to be a valuable asset to help protect against the emotional and financial loss of exposure to KHV.
Hopefully this vaccine will just be the first in a new line of products and procedures designed to help further the health and well being of pet fish everywhere
Contact us for more information about whether vaccination is right for you and your fish.
Best wishes for your fishes!