This class is for those who have been hurt or intimidated by horses, equine professional who want to learn more about recent advances in animal training and how the horse learns, and all who want to learn how to
prolong the life of the horse.. There is an introduction to husbandry of the animal,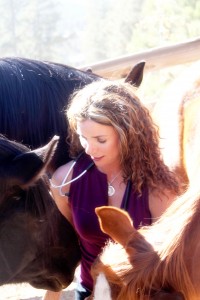 including what your equine vet wishes their clients knew about horses, as well as a discussion of holistic health care and the acupressure exam. You will learn how to perform the diagnostic acupressure exam, which when done correctly will not only help keep your horse healthy, but, also resolves 80% all all training problems on the ground!
Upon completion of the course, participants will know how to minimize injury to oneself and the horse while delivering good quality health care, as well as gain a good understanding of how animal behavior affects health and healing. Common disease processes which are effectively treated through alternative medicine will be discussed, and an introduction to the use of acupuncture, herbs, and homeopathy. Students will be enlightened to new advances in the understanding of equine behavior and training in order to facilitate more desirable behaviors and, most importantly, a deeper bond between horse and human. Participants will learn why there is no such things as good or bad behavior, and how to begin to utilize the science of operant and classical conditioning to teach almost any animal (it's not just for horses) to do almost anything!
There will be barn time to help demonstrate the principles on school horses, and plenty of time for questions!
This will be an information packed seminar well worth the time for all horse lovers The location is Bel-Rea Institute of Animal Technology, 1681 S Dayton St, Denver, Co 80247. Please call the school directly to register at 303-751-9969.
Class size is limited, so register early. Contact us directly to have this presentation at YOUR next equine event (855) DrQand U!
Looking forward to seeing you soon!